Keynote Address
California's Estuaries in the Face of Climate Change
Wednesday, February 7, 2024 — 10:00am to 11:30am

In-Person and Recorded

Chair: Jim Sedinger, TWS Rep to Council
Two experts on California's coastal wetlands will discuss their current and future state. Christine Whitcraft, Professor and Director of the Environmental Science and Policy Program at California State University, Long Beach and John Takekawa, Operations Manager of the Suisun Resource Conservation District and retired Research Scientist, U.S. Geological Survey will talk about current issues with California's coastal wetlands, and their future in a discussion moderated by Jim Sedinger of the Western Section.
Dr. Christine Whitcraft is currently a professor in the Department of Biological Sciences and Director of Environmental Science and Policy (ES&P) at California State University Long Beach (CSULB). Her major area of interest is coastal wetland ecology, focused on the impact of anthropogenic activities on functioning of brackish and salt marshes. Specifically, she investigates restoration strategies, impacts of invasive plants, and climate change-related impacts. Recent grant efforts include the development of a statewide monitoring plan for estuarine marine protected areas (MPAs). She received her B.A. in Biology from Williams College, Williamstown MA, and Ph.D. in Biological Oceanography from University of California, San Diego, Scripps Institution of Oceanography. Her postdoctoral research was a CALFED position at San Francisco Bay National Estuarine Research Reserve until she started at CSULB in 2008.
Dr. John Takekawa is the Operations Manager at the Suisun Resource Conservation District in Suisun Marsh. His background includes leading projects on waterfowl and wetlands over 33 years as a federal supervisory research biologist and for 3 years as a program director for the National Audubon Society. He is a graduate of the University of Washington, University of Idaho, and Iowa State University. He founded the San Francisco Bay Estuary Field Station in 1995 focused on waterbirds and their habitats on the Pacific coast and internationally, and he has authored more than 200 peer-reviewed papers.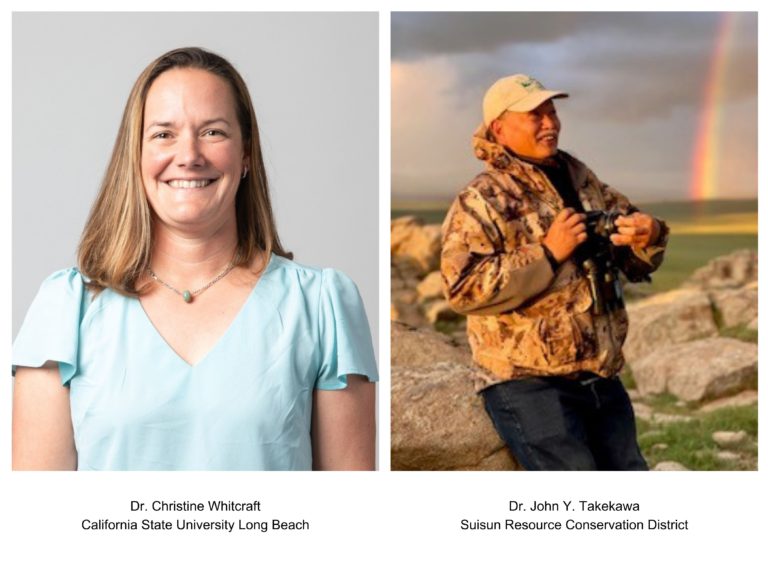 Plenary Session
Surviving and Thriving: Embracing our Adaptability Amidst a Changing Climate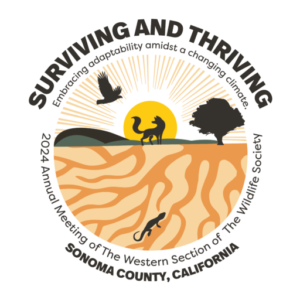 Thursday, February 8, 2024 — 1:30pm to 3:00pm

In Person AND Recorded

Chair – Brooke Langle,

TWS-WS President-Elect/SWCA
Many of us embraced the challenges suggested by TWS-WS President Randi McCormick at last year's Annual Meeting. I now invite you to join us on an exploration of our adaptability as wildlife professionals. The 2024 Plenary Session will explore the obstacles faced by wildlife professionals due to an unpredictable climate.
Did heavy rain and flooding swamp out your research site? Did a fast moving wildfire destroy your ability to conduct planned field work? Are you investing your time, energy, and resources to manage a landscape that is becoming less predictable? If any of these or similar situations resonate with you, then come share your strategies and pivots with us so that we may all learn from, and support, each other. 
Let's show up for each other, to share the information we're learning, to support each other through the unique challenges our work brings, to be a resource for young professionals, and last but not least, have fun together! I'll be counting down the days until I see you all in February!
– Brooke Langle, Meeting Chair and TWS-WS President-Elect/SWCA
Announcing the Western Section TWS 2024 Plenary Speaker:
We are excited to announce our 2024 Plenary Speaker.  Check back soon!
Members Town Hall 
Thursday, February 8, 2023 — 3:30 to 4:30pm 

In Person and Recorded
Join Western Section friends and members at our annual town hall meeting.  Learn what the Section is all about, hear from officers and Chapters about their recent activities, review and ask questions about our financial statements, eat snacks and celebrate a great past year.   
Members Town Hall Agenda
3:30-3:35 Welcome – A brief welcome from TWS-WS President
3:35-3:50 Committee Reports – Hear what all of the great section committees are up to!
3:50-4:05 Chapter Reports – Hear updates from chapters throughout the section!  Don't forget to attend the chapter meetings @ 8pm!
4:05-4:10 Treasurer's Report – A recap of the financial standing of the section.
4:10-4:25 Member Comments – Open forum. Your chance to make yourself heard!
4:30 Adjourn Meeting
Capstone Presentation
Announcing our 2024 Capstone Speaker — Kim Stanley Robinson
Friday, February 9, 2024 — 11:00am to 12:30pm

In Person AND Recorded

Chair – Randi McCormick,

TWS-WS President/McCormick Biological
We are excited to announce our 2024 Capstone Speaker, Kim Stanley Robinson, who will wrap up our Annual Meeting discussion on Surviving and Thriving – Embracing our adaptability amidst a changing climate.  
His book, The Ministry for the Future, is a must read for anyone interested in solutions to the climate crisis.  The book endorsements best tell the story:
"If I could get policymakers, and citizens, everywhere to read just one book this year, it would be Kim Stanley Robinson's The Ministry for the Future… Robinson is one of the greatest living science fiction writers."―Ezra Klein on The Ministry for the Future
"So far, the best descriptions of what this new world could be like come from Kim Stanley Robinson, a science-fiction author who specializes in depicting the kinds of delights that a world that took our predicament seriously might produce."―The New Yorker on The Ministry for the Future
"

The Ministry for the Future

 ranks among Robinson's best recent works, a collection of actions and observations that adds up to more than the sum of its eclectic and urgent parts."―Sierra on The Ministry for the Future
"Score a point for the audacity of hope….Robinson digs deep into how, with institutional support and some off-the-books black ops, revolutionary ideas could still seize our world."―Shelf Awareness on The Ministry for the Future
"[A] gutsy, humane view of a near-future Earth…Robinson masterfully integrates the practical details of environmental crises and geoengineering projects into a sweeping, optimistic portrait of humanity's ability to cooperate in the face of disaster. This heartfelt work of hard science-fiction is a must-read for anyone worried about the future of the planet."―Publishers Weekly (starred) on The Ministry for the Future
"If there's any book that hit me hard this year, it was Kim Stanley Robinson's 

The Ministry for th

e Future

, a sweeping epic about climate change and humanity's efforts to try and turn the tide before it's too late."―Polygon (Best of the Year) on The Ministry for the Future.
Kim Stanley Robinson is an American science fiction writer. He is the author of more than twenty books, including the international bestselling Mars trilogy, and more recently New York 2140, Aurora, Shaman, Green Earth, and 2312, which was a New York Times bestseller nominated for all seven of the major science fiction awards—a first for any book. He was sent to the Antarctic by the U.S. National Science Foundation's Antarctic Artists and Writers' Program in 1995 and returned in their Antarctic media program in 2016. In 2008 he was named a "Hero of the Environment" by Time magazine, and he works with the Sierra Nevada Research Institute, the Clarion Writers' Workshop, and UC San Diego's Arthur C. Clarke Center for Human Imagination. His work has been translated into 25 languages and won a dozen awards in five countries, including the Hugo, Nebula, Locus, and World Fantasy awards. In 2016 he was given the Heinlein Award for lifetime achievement in science fiction, and asteroid 72432 was named "Kimrobinson." In 2017, he was given the Arthur C. Clarke Award for Imagination in Service to Society. A prolific writer and speaker, his work has appeared in The New York Times, The Washington Post, Newsweek, Nature, and Wired, among many others, and he has lectured at more than one hundred institutions over the last 25 years. His novel, The Ministry for the Future, was selected as one of Barack Obama's Favorite Books of 2020 and one of Bill Gates' "5 Great Books for the Summer" in 2022. His most recent book, The High Sierra: A Love Story is a non-fiction exploration of Robinson's years spent hiking and camping in the Sierra Nevada mountains, one of the most compelling places on Earth.