Tuesday
Welcome Reception
Tuesday, February 6:  6:00 – 8:00pm 

In Person, Included in meeting registration at no extra cost
Join us to kick-off the Annual Meeting and make connections with friends, colleagues and fellow participants.  Featuring our annual taco bar along with the fabulous annual wildlife photo slideshow highlighting photos taken by our members, a fun wildlife t-shirt contest, cornhole games on the patio and a scavenger hunt game to help new attendees get to know the Western Section of TWS.
A fiesta buffet will be served and this meal is included in the meeting registration fee along with a no-host bar. (Menu: Coming soon.)
Wear a Wildlife T-Shirt! Prizes awarded for the best shirts in several categories. (1) Science/Nature (2) Funniest (3) Most Unique (4) Most Artistic
Submit your photos for our annual wildlife slideshow, and enter to win one of several $100 REI Gift Cards!  Link to instructions
Students: Stop by the Student Affairs table  and play the Scavenger Hunt game – get to know the Western Section of TWS!
Student Quiz Bowl AND After Hours Games
8:00pm to 9:00pm – Student Quiz Bowl

9:00pm to 11:00pm – Group games led by gamemaster Matthew Bettelheim — Rollick, Werewolf, and Poetry for Neanderthals….  Laughs guaranteed!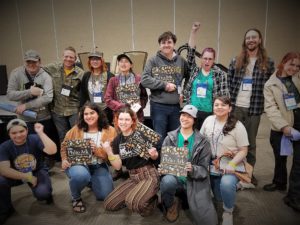 ---
Wednesday
Members Banquet and Awards
Wednesday, February 7:  7:00pm to 9:30pm

In Person, Banquet Meal Ticket, $35.  (Tickets are included at no extra charge for all students registrants.)  Tickets available online – purchase by 1/19/24.
Enjoy a casual, relaxing evening reconnecting with your colleagues and friends while making new connections over a good meal at the annual meeting members banquet.  If you haven't previously attended a Western Section banquet, now's the perfect time to start a new tradition.
If you are bringing a large group to the banquet, email Candace if you'd like early access so you can reserve a table for your group ahead of time.
2024 Banquet Menu:
Organic Greens with Point Reyes Bleu Cheese, Candied Pecans, Fuji Apples & Balsamic Vinaigrette

Choice of Entrees with Seasonal, Local Vegetables:
Free Range Chicken Breast with Creamy Sage and Parmesan Sauce (GF)

Seared Salmon with Chili and Basil Chimichurri (GF)

Stuffed Pasilla Pepper Stuffed with Wild Rice, Roasted Mushrooms, Goat Cheese, and Red Pepper Sauce (GF)
Individual Basque Cheesecake

All dinners served with warm rolls, butter and iced water.   Coffee served upon request.  
Banquet Schedule

5:30-7:00pm – No-Host Cocktail Bar 

6:45pm – Doors Open for seating

7:00pm to 8:30pm  – Dinner

8:30pm to 9:30pm – Western Section Awards
After Hours Wildlife Trivia
9:30pm to 11:30pm – Join us for some fun (and fierce!)

competition.  With prizes!  (teams of 4, ok to self organize that night!)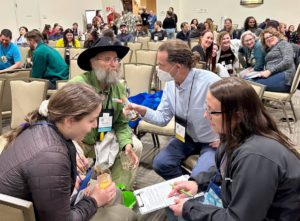 ---
Thursday
Poster Session and Reception
Thursday, February 8: 6:00-8:00pm 

Included in meeting registration at no extra cost
An in-person poster session and reception will be held on Thursday evening.  Authors will be available at their poster display to answer your questions about their research. Hors d'oeuvres will be provided to all meeting registrants along with a no-host bar.  Posters will be available for viewing starting Wednesday morning through Thursday end of day.  For more information on poster presenter guidelines, click here.
Chapter Meetings
8:00pm to 9:30pm – Join your local TWS Chapter and get to know local wildlifers in your area.  Find ways to get involved locally!
After Hours Karaoke 
9:30pm to 11:30pm – Back by popular demand!  We'll be singing and having fun into the night!  Come participate, or just come to watch.  It will be a hoot!